World in Conflict
Studio:
Swordfish Studios
Publisher:
Sierra
Platform
Xbox 360, PS3
Role:
Lead Artist (Manchester)
CREATED by Massive entertainment of Sweden, World in Conflict was a revolutionary action strategy game set in the cold war. It was designed as a high spec PC game and as lead artist for Swordfish Studios Manchester my role was to bring the games stunning visuals to 360 and PS3.
The major challenges for this project were to convert the Windows point and click interface to console pad and to preserve the visual quality on consoles of much lower capabilities that the original specification.
Here are just a few screen shots demonstrating the outstanding results the team achieved.
Front End Screens
Assignment:
Art Direction
Schedule Management
The original PC interface was a traditional point and click system with icons and selection boxes. The design team decided that to try to replicate this with a pad would be clunky, and created completely new methods of controlling the game. I wanted the art style to reflect this new approach and an entirely new theme was developed. The concept we came up with was that the player was taking the part of a cold war general holed up in a bunker directing world war 3 from afar, receiving reports and video from the battlefields. The game was set in the 1980s and films of the period were used as inspiration for the vector style of the graphics.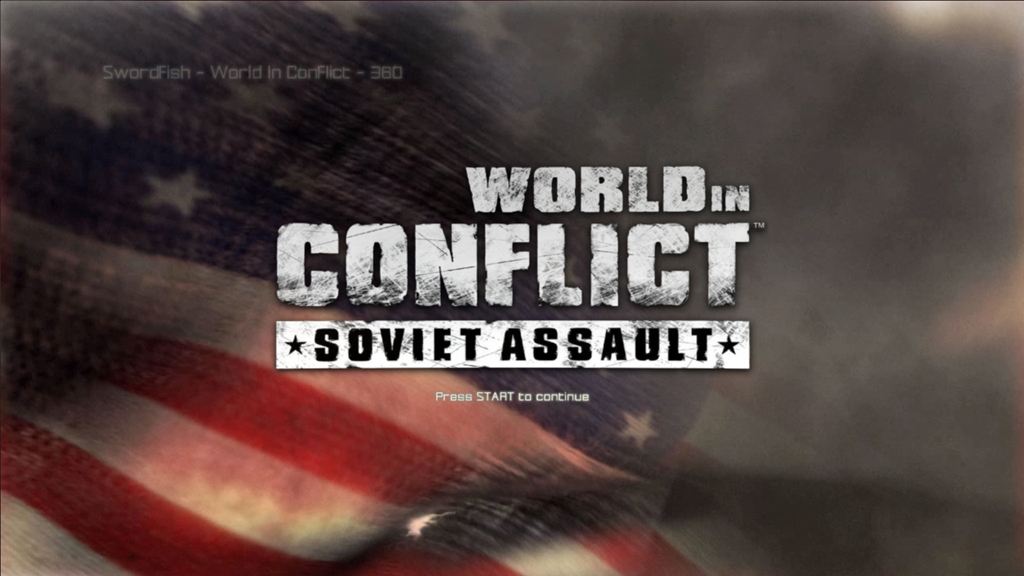 The background flag animation was done by Kevin Connolly. It blended seamlessly between the attract mode sequence and the start screen background.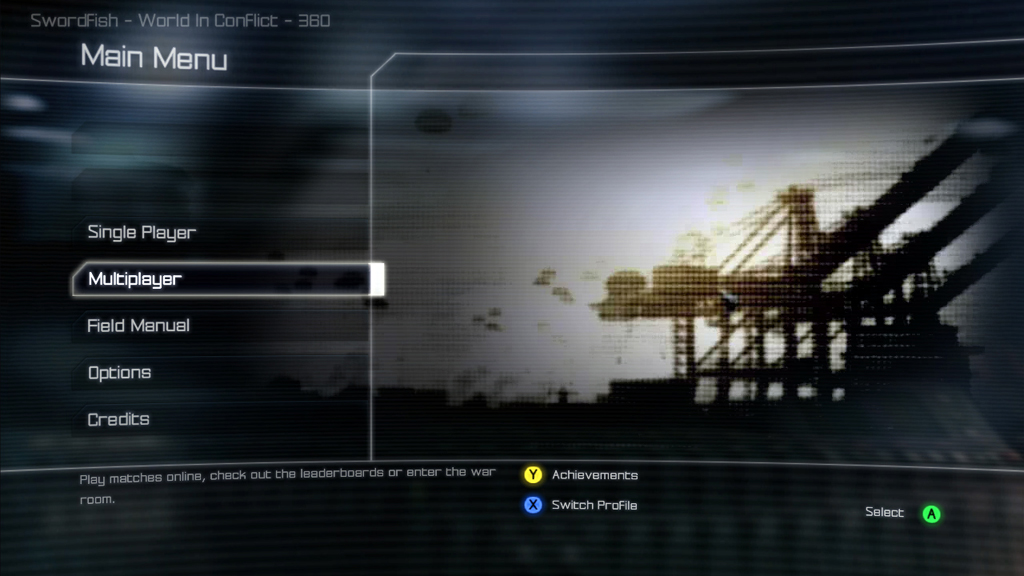 The background to the menu was an animated montage of action scenes built from game footage supplied by Massive Entertainment.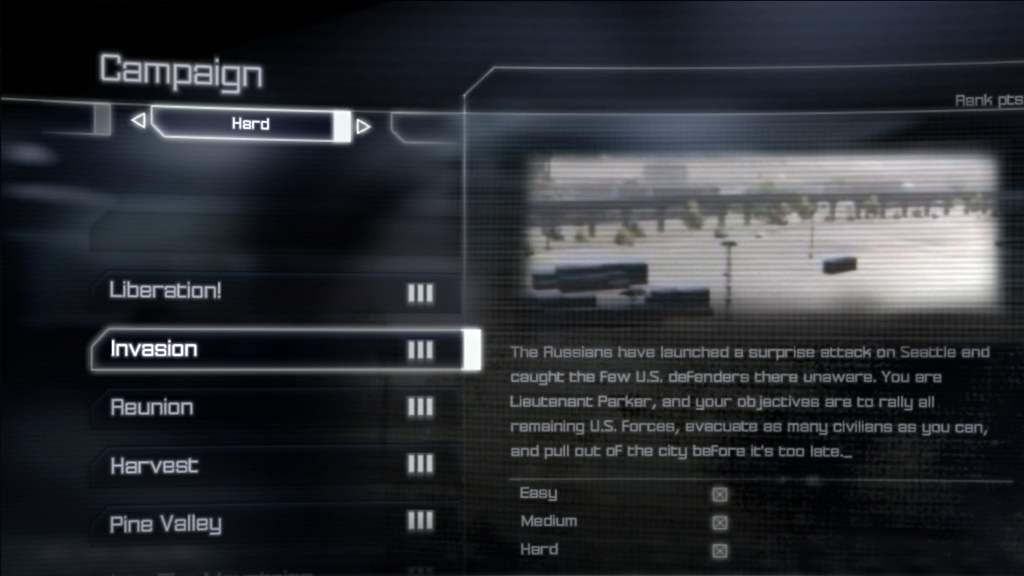 The little window showed a movie of action from the mission. There was a perceptable lag before the video started after the page was loaded due to seek time. We used a texture of noise texture animated with UV scrolling to simulate static.
This was on of those times where having to find a solution to an unforeseen problem actually gave better results.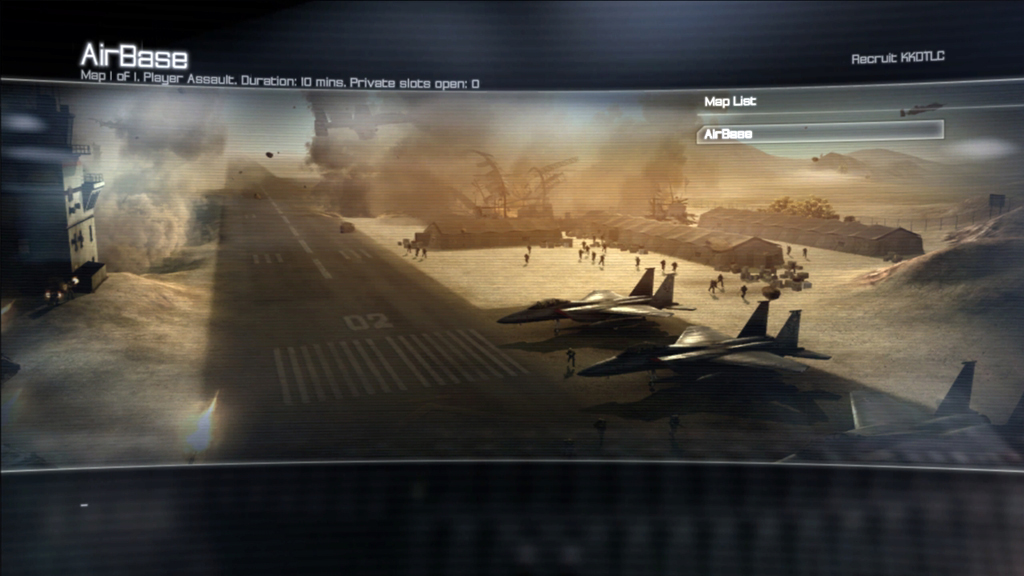 The design team had made it a goal to break down the artificial division between the front end menu system and the game and the loading screen was designed with this in mind. Whilst the game was loading, an image of action from that mission would be displayed in the central portion of the screen.
This would be slowly zoomed in, to keep some movement in the screen and build the tension. When the mission was loaded this image would be faded down to reveal the game world. Only then would the top and bottom bars be faded down. Blurring the transition from FE to game.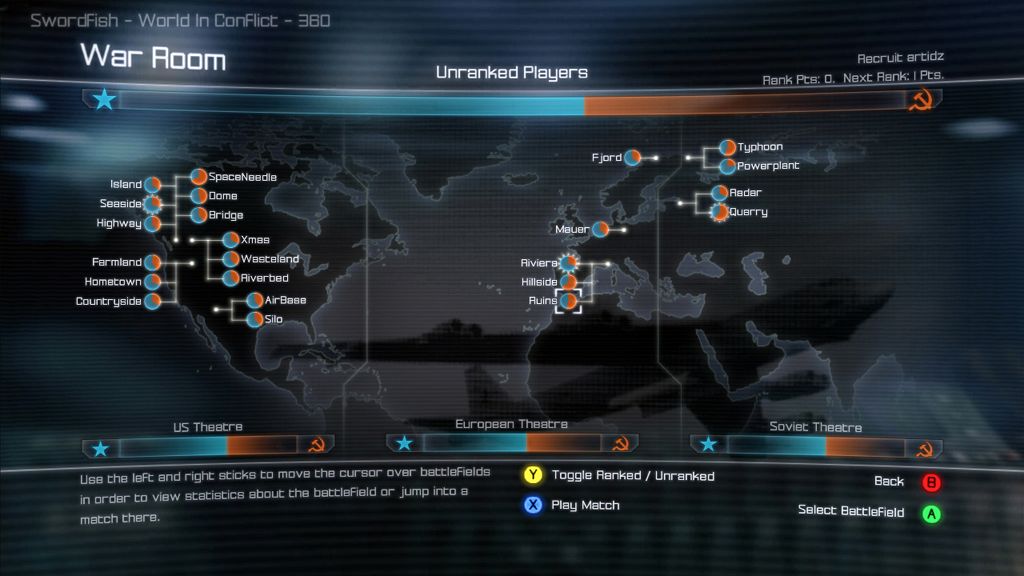 The inspiration for calling this screen the War Room is a quote from the movie Dr. Strangelove.